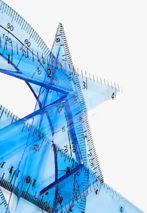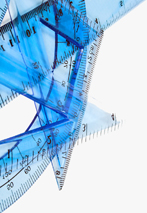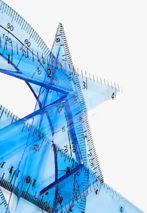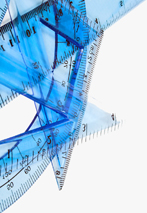 xX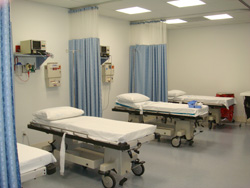 Transmodular Mobile Hospital Systems provide state-of-the-art, complete expandable prefabricated hospitals for a fraction of the cost of conventional construction. Our prefabricated hospitals are medically certified and designed for commercial duty and rapid deployment anywhere in the world, Transmodular Hospitals provide immediate, affordable solutions to the need for modern, self-sustaining surgical and medical centers for rural communities, disaster relief, population relocations, hospital expansions and remodels, military healthcare, and humanitartan aid.
Affordable and Cost-contained Mobile Hospital Complexes can be constructed and deployed in 6 to 9 months. Traditional building contracts take an average of 5 to 8 years by comparison. Full-scale Transmodular Hospitals average to be about $500,000 per bed, as compared to $1,500,000 per bed traditionally.
These customizable healthcare centers are built in a highly specialized, US-based manufacturing environment. With over 50 years of cumulative experience in healthcare construction and maintenance services, American Bio-Medical Services Corp had developed the most advanced mobile medical care facility known to date.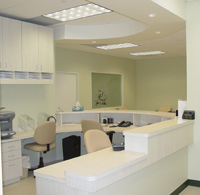 Transportable and Complete Transportable and Complete Hospitals, Mobile Units and Surgical Centers arrive fully equipped and stocked with medical supplies, and are able to be deployed and operational in as little as 2 weeks upon delivery. Hospital Complexes and individual componentized medical units are designed to provide maximum flexibility, allowing future expansion or even complete relocation as required in a matter of weeks.
All models are capable of being transported by cargo ships, overland haulers, or helicopter. Each Modular Hospital Unit can be parked in place or installed on a foundation for semi-permanent or permanent use, complete with security systems. This highly adaptable design offers crucial advantages in the event of climate or disaster-related relocation demands.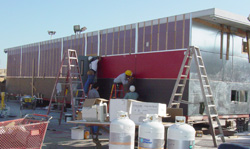 Expertly Designed and Pre-Certified Professionally engineered by experienced industry specialists for spaciousness, comfort and efficiency, our pre-fabricated medical facilites are deliverered completely operational. Exteriors can by modified with facades or aesthetic additons to suit.
Modular Hospitals can be self-contained with on-site energy and medical gas production, water processing modules, and integrated waste management systems, depending on your requirements. Modules are constructed with the finest hospital-grade flooring and surfaces for ease of maintenance and decontamination requirements.
Complete in-house training is provided for your medical staff on new instruments, auxilliary systems, and our automated inventory re-stocking technology. Ongoing tech-support is provided via live satellite uplink, and instant access to instruction video downloads.
Call us today to talk to our professional and friendly staff...
---
copyright 2010 energistx | contact | company | links | sitemap
Here are some related subjects to what we do:
housing, disaster-relief shelters, military camps, shelters, instant shelters, portable, canopies, hangars, enclosures, equipment shelters, mess halls, mobile hospital, storage area, disaster housing, eating area, recreational camps, research camps, building additions, military, army, housing, temporary housing, field shelters, mobile field hospitals, barracks, mobile hospitals, army defense, shelter systems, military defense, shelters, soldier barracks, air-conditioned mobile medical shelters, disaster relief, refugee camps, storage, temporary housing, mess halls, cafeteria, medical shelter systems, natural disaster relief housing, equipment storage, military ambulance vehicles, sheds, field medical support systems, field emergency medical treatment area, shelter, buildings, tent, government contracts, military, field hospital, barracks, military workshop, barrack, military housing, Military, Army, Housing, Temporary Housing, Field Shelters, Mobile Field Hospitals, Barracks, Mobile Hospitals, Army Defense, Shelter Systems, Military Defense, Shelters, Soldier Barracks, Air-conditioned Mobile Medical Shelters, Disaster Relief, Refugee Camps, Storage, Temporary Housing, Mess Halls, Cafeteria, Medical Shelter, Disaster Relief Housing, Equipment Storage, Military Ambulance Vehicles, Sheds, Field Medical Support Systems, Storage, Field Emergency Medical Treatment Area, Shelter, Buildings, Tents, Government Contracts, Military, Field Hospital, Barracks, Military Workshop, Barrack, Military Housing, Temporary Housing, Disaster Housing, Temporary Buildings, Emergency Housing, Disaster Relief Shelters, Military Camps, Shelters, Instant Shelters, Portable, Canopies, Hangars, Aircraft Storage, Enclosures, Equipment Shelters, Mess Halls, Mobile Hospital, Storage Area, Disaster Housing, Eating Area, Recreational Camps, Research Camps, Building Additions, industrial shelters, temporary building, Industrial Shelters, portable shelters, tension fabric structures, portable, structures, pre assembled buildings, portable buildings, portable, clean rooms, environmental enclosures, storage buildings, test facilities, laboratories, communications shelters, equipment enclosures, truss, truss buildings, generator covers, storage, Single Arch, Temporary Emergency Housing, Disaster Relief Shelters, Military Camps, Shelters, Instant Shelters, Portable Buildings, Affordable, Workshops, Temporary Building, Temporary Storage, Temporary Structures, Air-Conditioned Mobile Medical Shelters, Communications Shelters, Construction Equipment Shelters, Construction Inspection Shelters, Disaster Housing, Disaster Relief, Disaster Relief Housing, Portable Shelters, Pre Assembled Buildings, humanitarian response, Medical disaster relief, disaster agency,
natural disaster, disaster organization, disaster relief agencies,
voluntary organizations, Earthquake, disaster news, newspapers,
newspaper, humanitarian response, relief organization, disaster
agencies, international disaster organizations, disaster response, Technological news, disaster
news, newspaper, earthquake, Medical Resources, Search and Rescue,
disaster Organizations, Search, Rescue, Search, Rescue, disaster news,
newspapers, newspaper, disaster report, Earthquake, American Red Cross,
American National Red Cross, disaster relief, disaster agencies, humanitarian response, Medical Resources,
Modules inverter,

* Disaster centers
* Earthquake
* Floods
* Hurricanes
* Portable energy
* Search and rescue
* Technological disasters
* Tornados
* And other Natural disasters
*